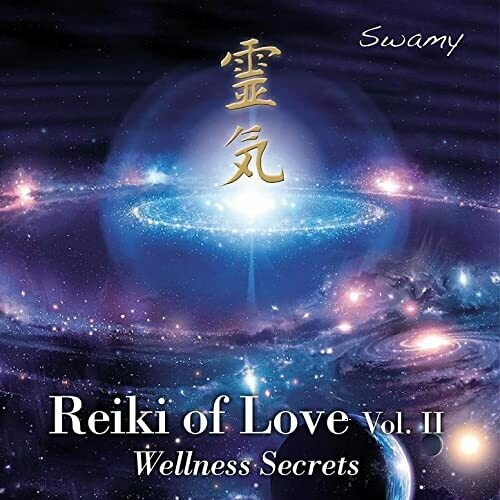 Reiki of Love vol. 2 - Wellness Secrets
380-15%
Reiki of Love vol. 2 - Il Segreto del Benessere
Dettagli del prodotto
Swamy da anni approfondisce gli studi del dottor Mikao Usui che lo portarono alla scoperta di antichi suoni, toni e armonie strettamente connessi al sistema nervoso dell'uomo, capaci di attivare l'energia universale del benessere e della guarigione. In questo lavoro Swamy ricrea una magica miscela di questi toni dolci e soavi capaci di arrivare fino alle parti più segrete dell'animo umano e regalare una carezza che trasmette serenità e benessere. La bellezza delle melodie di tastiere e del del flauto bansuri di Swamy accompagnate dal piano della talentuosa Annabelle Blanche e da un intervento di Gran Piano di Capitanata donano all' ascolto dolcezza e trasmettono una tranquillità sublime. Secondo la tradizione di Mikao Usui, dopo anni di faticose ricerche, scoprì quello che lui definì il Segreto del Benessere e lo chiamò Reiki.

Gli insegnamenti del Reiki affermano che c'è una energia vitale universale, accessibile ai praticanti per indurre effetti curativi. Reiki è un termine giapponese che significa energia vitale universale e nasce dall'unione di due concetti: Rei che indica la forza spirituale universale e Ki che si può tradurre come energia che scorre nel corpo o forza interiore. L'unione di Rei e Ki da origine alla parola reiki utilizzata per definire sia la disciplica curativa che l'energia utilizzata durante la pratica. La musica di Reiki of Love vol.2 è ideale per accompagnare la pratica del Reiki, perfetta per massaggio e meditazione, ma è anche un sottofondo ideale per ricreare a casa propria un'atmosfera di armonia e pace interiore, ideale anche per momenti d'amore, per ritrovare il nostro equilibrio interiore, per accogliere intuizioni o programmare le nostre attività con la giusta ispirazione. I suoni della natura di questo CD sono accordati sulle frequenze di 432 Hz, Le onde Alfa sono stimolate positivamente da frequenze a 432 Hz, favorendo così un equilibrio tra i due emisferi cerebrali migliorando il benessere, la concentrazione e la meditazione. Il CD contiene il segnale di un campanellino Tibetano per il cambiamento della posizione Reiki ogni 3 minuti. Un nuovo Best Seller che dona benessere e serenità.
Swamy years deepened his studies of Dr. Mikao Usui who led to the discovery of ancient sounds, tones and harmonies closely related to the human nervous system able to activate the energy universal well-being and healing. In this second CD Swamy re-creates a magical blend of sweet and gentle tones able to reach most secret parts of the human soul and give a caress transmits serenity and wellbeing. This , is excellent music for any kind of deep work: Reiki, meditation, massage, or relaxation. Long sonorous tones and an underlying rhythmic pulse create a gently supportive, ambient soundscape. An essential addition to any healing collection. "Many natural health practitioners seek music that will work with them and their clients as they work with subtle ambient vibrations. Reiki is one of those techniques that is invisible to most eyes, yet can be felt through the sense of touch as the healer works to balance the flow of the life-force energy. For these types of sessions, healers like to use very smooth ambient music that has no jarring transitions or shifts in mood from cut to cut. This new recording by Swamy will serve this purpose well, offering a soundscape which is generally supportive rather than drawing too much attention to itself. His compositions can help relax tension so that energy can flow freely again. The melodies can seem to disappear, yet there is a constant pulse that you can tune into like a heartbeat you can feel if you listen closely."
Salva questo articolo per dopo