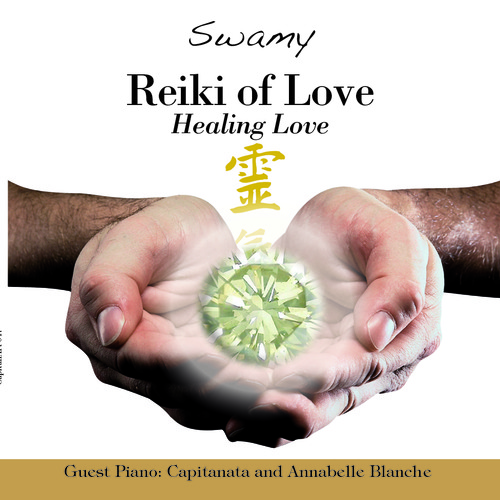 Reiki of Love - Healing Love
379-15%
Reiki of Love Vol. 1 Best Seller Reiki Music
Dettagli del prodotto
Con "Reiki of Love" Swamy, Musicista e Reiki Master Tedesco da circa 25 anni, ci regala una prova del suo genio musicale e della sua esperienza di maestro e istruttore Reiki. Un eccellente lavoro che trasporta l'ascoltatore nel cuore più intimo del proprio essere. La musica invita ad intraprendere un viaggio mistico, offrendo meravigliosi e colorati paesaggi musicali che favoriscono la meditazione, il benessere e l'amore. L'abilità di swami come musicista e come Reiki Master fa di "Reiki of Love" un sublime viaggio per attingere e per dare, piacevoli, sfumature d'amore alla propria vita.
La bellezza delle melodie delle tastiere di Swamy accompagnate dal pianoforte della talentuosa Annabelle Blanche e da un assolo di Gran Piano di Capitanata donano all'ascolto dolcezza e trasmettono una tranquillità sublime. La linea melodica inoltre si unisce in perfetta simbiosi con uno dei più antichi e misteriosi suoni della natura: il canto dei delfini, atipici dialoghi suggestivi che toccano la parte più profonda dell'animo umano, stimolandone l'espansione in gioia ed in amore. Consigliato come sottofondo per accompagnare sessioni di Reiki o qualsiasi altra pratica che prevede l'uso di musiche delicate e tranquille, ma anche a momenti d'amore, di meditazioni, per ritrovare il nostro equilibrio interiore, per accogliere intuizioni o programmare le nostre attività con la giusta ispirazione. Il CD contiene il segnale di un campanellino Tibetano per il cambiamento della posizione Reiki ogni 3 minuti. Un nuovo best seller che affascina e nutre l'anima.
This , is excellent music for any kind of deep work: Reiki, meditation, massage, or relaxation. Long sonorous tones and an underlying rhythmic pulse create a gently supportive, ambient soundscape. An essential addition to any healing collection. "Many natural health practitioners seek music that will work with them and their clients as they work with subtle ambient vibrations. Reiki is one of those techniques that is invisible to most eyes, yet can be felt through the sense of touch as the healer works to balance the flow of the life-force energy. For these types of sessions, healers like to use very smooth ambient music that has no jarring transitions or shifts in mood from cut to cut. This new recording by Swamy will serve this purpose well, offering a soundscape which is generally supportive rather than drawing too much attention to itself. His compositions can help relax tension so that energy can flow freely again. The melodies can seem to disappear, yet there is a constant pulse that you can tune into like a heartbeat you can feel if you listen closely."
Salva questo articolo per dopo