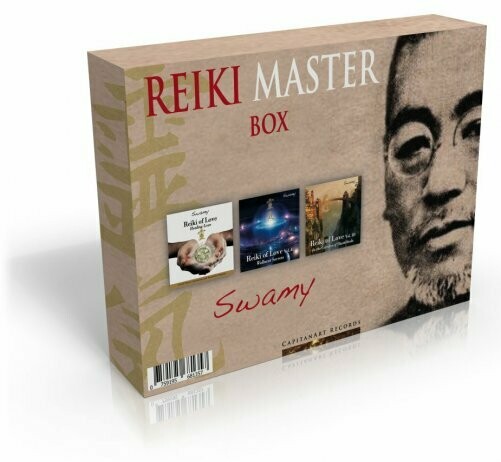 Reiki Master Box - Cofanetto 3 CD
1042 - 15%
Reiki Master Box - Cofanetto 3 CD - Swamy - Un cofanetto indispensabile per i praticanti Reiki!
Dettagli del prodotto
Un cofanetto indispensabile per i praticanti Reiki! Il cofanetto con tre CD della collana Reiki of Love composta da Swamy, uno dei massimi esperti della musica Reiki, è un supporto indispensabile per accompagnare i trattamenti Reiki. "Reiki of Love Serie's" è indicato per accompagnare la pratica Reiki, per esaltarne le potenzialità, e per creare un'atmosfera giusta per rilassare il paziente e favorire la concentrazione del terapista.
I cd di Swamy sono realizzati con metodi utili ad indurre chi riceve Reiki, verso uno stato di rilassamento psico-fisico molto profondo, e, ad aprire il cuore, a chi effettua il trattamento.
Swamy, ha vissuto per diversi mesi in Giappone nel villaggio di Taniai (oggi conosciuto come Miyama Cho) dove è nato Mikao Usui, componendo parte dei suoi lavori in questo luogo, ricreando una magica miscela di atmosfere cristalline e curative con toni dolci e soavi, capaci di arrivare fino alle parti più segrete dell'animo umano dispensando serenità e benessere.

Il Reiki Master Swamy, da anni, approfondisce gli studi del dottor Mikao Usui, è un ricercatore di antichi suoni, toni ed armonie, strettamente connessi al sistema nervoso dell'uomo capaci di attivare l'energia universale del benessere e della guarigione. Reiki of Love - Vol. 1 Reiki of Love - Vol. 2 Reiki Of Love - Vol.3


Le musiche curative di questa collana rafforzano il sistema immunitario creando una migliore resistenza immunologica; grazie a queste armoniose musiche si ottiene una diminuzione dello stress e, di conseguenza, una distensione muscolare che stimola la rigenerazione di organi, tessuti ed ossa. L'ascolto di questi CD genera emozioni che danno risposte chimiche positive al nostro DNA e alle nostre cellule.

Le musiche contengono anche il segnale di un campanellino Tibetano, per il cambiamento della posizione Reiki ogni 3 minuti.

Salva questo articolo per dopo